Cleaning and sanitation is a very important process in any company, both to keep products clean and to create a good work environment. At SCS Group Integrated Services, we are aware. That's why we put our professional cleaning services at your fingertips.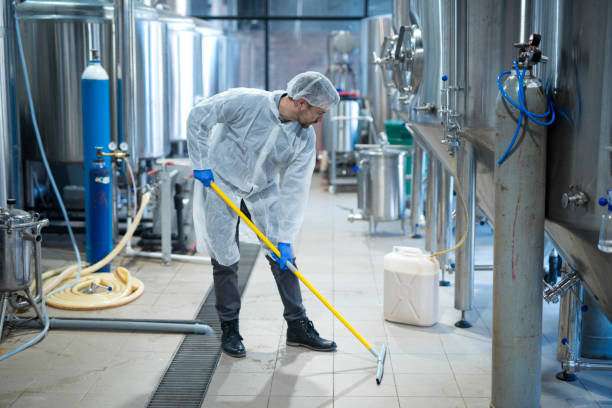 Offices, neighborhood communities, industrial buildings… We have solutions for any type of requirement. A well-cared-for place will help more and more customers come to the establishment, attracted by its neatness, and will improve the company's image.
Industrial cleaning, why hire a professional cleaning?
Cleaning products are key to optimizing work, however, a mistake is to use them indiscriminately and in a standardized way. At the SCS Group, we use products and techniques according to the needs of each place to always achieve excellent results.
Hiring a cleaning service for factories or industrial buildings will ensure that the walls, floors, and ceilings are always clean and without stains. In the same way, the machinery will be sanitized with the utmost care to prevent any element from being damaged.
Industrial cleaning techniques
Manual cleaning is the most common and habitual of the cleanings since we can carry it out in any type of installation. To carry out this type of cleaning, we will use basic tools such as a brush, a mop, and rags. Especially with bathrooms or kitchens, we use manual cleaning since they are small spaces and with areas of difficult access in which many machines cannot act.
Sandblasting
Although it may seem strange a priori, sandblasting is common, especially when cleaning facades. In this way, we removed the dirt before proceeding to paint the wall for a perfect result.
Pressurized water
As its name suggests, it comprises using water that comes out under pressure with great power. It is a technique that is very effective for cleaning industrial machinery or floors, but it has some drawbacks. A lot of water is needed so when using this technique there must be a drain nearby to evacuate the water or outdoors. As a result, a lot of water is wasted, so it is not a very ecological technique.
Dry steam cleaning
Similar to the pressurized water technique, it expels steam into the area that we want to clean. It is more ecological than cleaning with pressurized water and also leaves no trace like water. It is important to remember the surfaces to be cleaned must withstand the heat that the dry steam reaches. The professional cleaning personnel who carry out this type of cleaning must wear the clothing to avoid occupational risks.
Foam cleaning
Sometimes it is difficult to reach difficult access points such as holes inside a machine, for this reason, there are cleaning foam products. Normally they are applied and left to act for about half an hour, then the surface is rinsed to remove residue.
Industrial cleaning machinery
Sweeping cleaning machines, also known as sweepers, are used especially outdoors or in large areas such as warehouses or warehouses. There are electric, manual, or motorized sweepers, and they are used to collecting any type of waste.
Cleaning machines for scrubbing
They are more complete than sweepers because they can sweep and also scrub and dry the floor. This functionality saves a lot of time and is used, for example, to clean garages in neighboring communities.
Professional cleaning in Perth
If you are looking for an industrial cleaning service in Perth, SCS Group Integrated Services is the solution. We have qualified and experienced staff. We also adapt to your needs by creating a 100% personalized work plan. Cleaning windows, toilets, changing rooms, scrubbing, and sweeping floors…
If you want your premises or industrial warehouse to be always clean, leave it in our hands. Ask for your budget without obligation by visiting our website.